SIMPLIFY YOUR HOME
SIMPLIFY YOUR LIFE
LET'S WORK TOGETHER
Life Made Simple is a Rochester based professional organizing service. We specialize in helping busy parents and professionals clear clutter and create simple, sustainable organizing solutions that allow them to spend their money and time as they wish. We're here to be the sensible source of support you need when you're too confused, too busy, or too stressed to simplify on your own. We offer personalized plans that fit your style, budget and timeline-meaning we create spaces designed specifically for you and your needs. Helping our clients get organized means helping them live their ideal lifestyle-one where life is made simple.
Get to know tricia
Tricia TenEyck is the owner and lead organizer of Life Made Simple. Tricia lives in Fairport with her boyfriend of 10 years (high school sweethearts!) and her cat Penny. She enjoys taking long walks in her neighborhood, trying out new baking recipes, hosting game nights with friends, and catching up on her favorite shows under a blanket.
Tricia is a SJFC graduate with a degree in communications + marketing. After college Tricia worked as a real estate assistant and excelled at creating systems and organizing solutions so that a busy business could run smoothly each day. While this was her expertise, she knew she could put this passion to better use. She began organizing in her family and friends homes; smiling each time they told her how much she simplified their lives for the better.
Tricia wakes up happy each day knowing she has been such a empathetic source of support for her clients who need non-judgmental, experienced organizer by their side.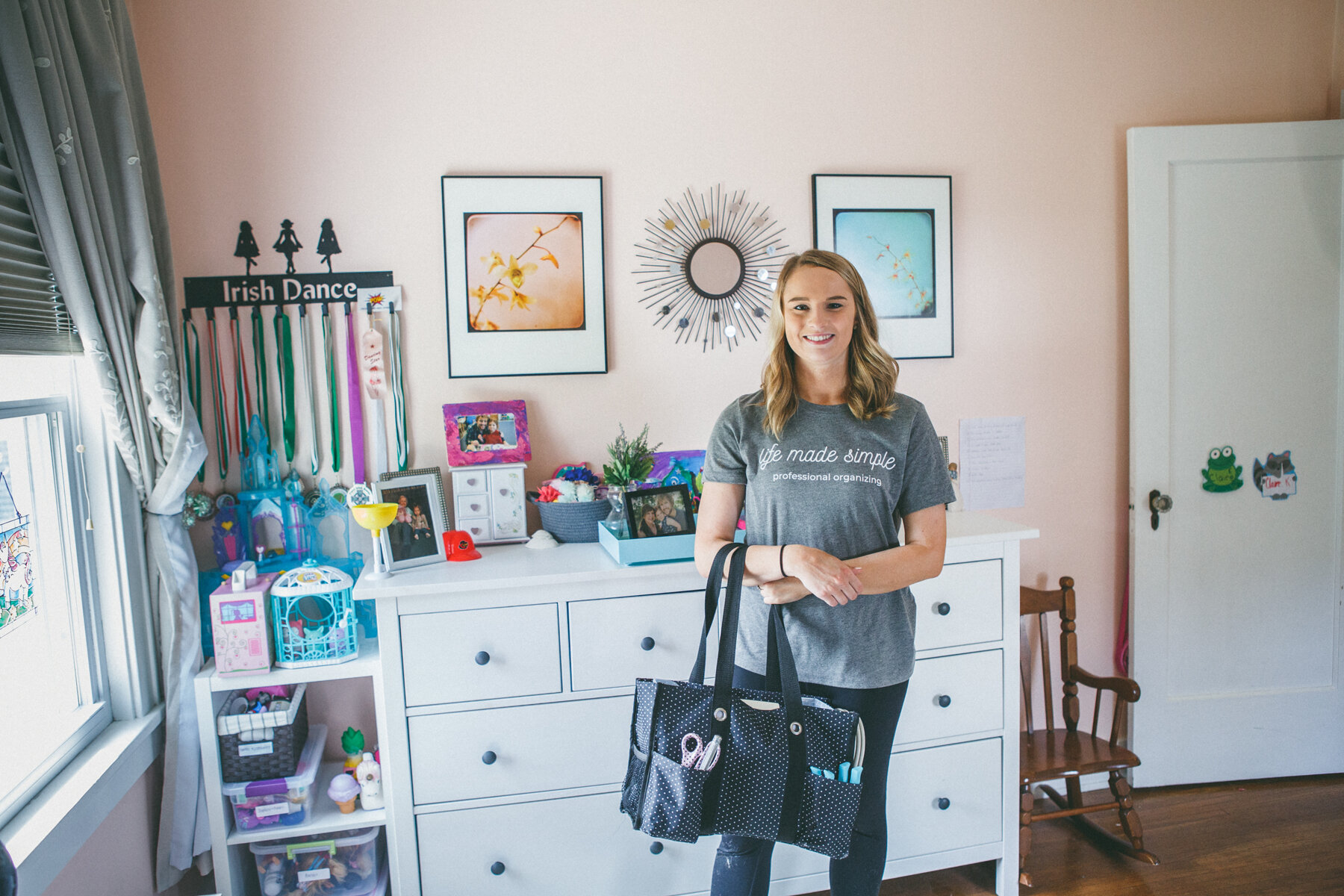 1. We schedule a complimentary consultation to view your space and discuss your goals
2. A proposal is sent your way detailing a plan and suggesting a purchase
3. We schedule your sessions and get to work
4. We discuss if your space could benefit from any maintenance visits in the future
In one afternoon Tricia transformed my daughter's room SO thoughtfully. Yes she cleaned and organized and labeled, but she did it in a way that will allow us to keep up on it, and in a way that makes sense to my daughter's 7 year old brain. She really approached organization by putting herself in her shoes - a little girl walking the edge between childhood and adolescence, a kid who equally appreciates the place of honor her treasured stuffed animals got and also squealed with delight over the grown-up touches like a make-up and accessories tray! When she saw her organized room she literally did a dance - and best of all, it's been two weeks and SHE'S KEEPING UP ON IT! This might be a new record.

Tricia has such a gift and is an absolute delight to work with. I can't WAIT to have her back soon to tackle some other spaces in my house that stress me out. Best of all, she offers maintenance packages - so if back-to-school comes and we do find ourselves falling out of our organized routine, we can have Tricia back to quickly put things back in order. If you need a little help with organization and clutter, I seriously cannot recommend Tricia highly enough!
-Kelly K.
Tricia did a great job helping me get my basement organized! Highly recommend!
-Jennifer H.
Working with Tricia was an absolute delight! What started off as a project to help get my house in order turned into preparing our house to stage, sell, pack, and move. Tricia was able to have a vision for each space and she had no problem with me working along side her throughout the process. I highly recommend her to anyone needing help and accountability when simplifying and organizing their home!
-Amanda G.